ALBUM: Daniel Merriweather – Love & War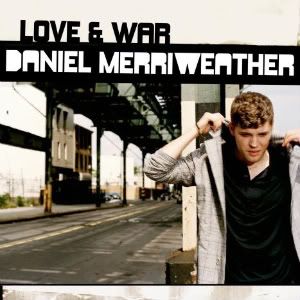 Release Date: June 1st, 2009
Label: Columbia
Website: www.danielmerriweather.com
MySpace: www.myspace.com/danielmerriweather
Rating:


You know, I was more than ready to go on a cynical diatribe about this album. More than happy to. With British (popular in Britain, anyway) music being populated by mass marketed wimps with bittersweet lyrics and daytime radio-friendly acoustic guitars, I was more than happy to write-off Daniel Merriweather in the exact same way. You know the wink wink 'hip-hop' collaboration, the popular singles, the mostly fashionable haircut and faux-soul vocal. It's all there for Mr. Cynical Critic to spit at before going back to salivating over late 80′s American indie rock three people outside of himself has heard of. I was this close… then I made the mistake of listening to it.
See, Merriweather had done himself no favors to me personally by being involved in Mark Ronson's absolute slaughter of The Smiths' 'Stop Me If You Think You've Heard This One Before'. I hated that. Ronson had already raped Radiohead, so to continue his sacreligious streak by ruining (albeit sub-par) Smiths songs really took the cake. So naturally, I wanted to hate Merriweather and his nice haircut and Jo Wiley recommendations for merely collaborating with Satan 2.0 himself, Mark Ronson. Again, my mistake was listening to his second album 'Love & War'.
So it is indeed Ronson who produced this, not a problem, because it's original material. He gets a blank slate, and it turns out both Ronson and Merriweather use some pretty slick chalk. If you go beyond the boundaries of personal bias, you can't help but be impressed by the soaring nature of opener 'For Your Money'. There's a cleverness to all of this too. For instance, tracks like hit single 'Change' are easy for a newer audience to like whereas your Mum could probably enjoy the updated Motown sound that permeates this album in songs like 'Impossible'. However, apart from the clever cross marketing genre changes in the album, there are other things to catch the listener's ear. Lines like "Giving myself to you is like giving myself to a chainsaw" probably means something other than I am envisioning but I'll admit that brought me back in when I started losing interest. Anyway, bottom line here is there is lots of little piano/brass or piano/string ballads that are more throwbacks than they are a representation of current music. They are effective, for example recent single 'Red' (which has grown on me since my earlier review), does stick with you. Many of the songs are sorrow tinged, with semi-intricate metaphors about relationships.
So the much maligned (by me) Mark Ronson. I shudder at the thought, but I give him credit here. As a producer he creates a mood very fitting of Merriweather's voice and style, with the arrangements in particular (assuming they are his) being very clever, with the 60′s brass and strings coming in the right places, and the guitar work working nicely too. Merriweather's voice is in places very impressive if you like that kind of thing. A honey-like drawl, it spreads over the music well, and it's the soulful element that will have hooked onto playlist compilers across radio stations. Plus, pop fans, just in case you were worried (I know you weren't but I needed a segue to mention this) Merriweather even ticks the checkbox of collaboration with trendy pop singer, as last year's very popular Adele pops up in the latter half of the album on 'Water & A Flame'.
So as I say, I was all but ready to just rant about commercial music, but then I listened. I could quite easily see people listening to this, just sat about with their mates drinking coffee and whatever else people in their mid twenties do on these trendy sitcoms. I can see that while I myself don't feel the emotion personally, that a lot of people could. This isn't something I would come back to regularly, but for effort, and musical intricacy, I'd be doing this album a disservice to call it anything but good.
Written by Paul Smith
---
Tags: Daniel Merriweather
This entry was posted on Monday, June 1st, 2009 at 7:00 PM and is filed under CDs. You can follow any responses to this entry through the RSS 2.0 feed. You can skip to the end and leave a response. Pinging is currently not allowed.