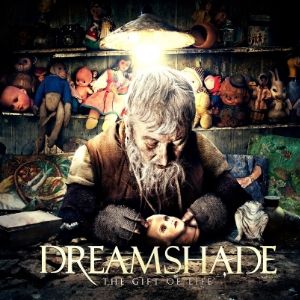 Release Date: February 11th, 2013
Label: Spinefarm Records
Website: www.dreamshade.ch
Facebook: www.facebook.com/dreamshadeband
Twitter: www.twitter.com/dreamshade
Rating:

Melodic metallers Dreamshade make no apologies for being bold on second full-length, 'The Gift Of Life'. Thanks to a sterling production job, the band certainly sound the part, even if their songs do lack the craft of the genre's kingpins, In Flames and Killswitch Engage. The influence of both bands on the Swiss five-piece is easy to hear across these ten tracks, but by trying to cram in one too many ideas, it ends up feeling bloated, lacking the spark that it needs.
Razor-sharp guitars dominate much of the lower-end of the riffage before the leads flourish, with the opening of 'Sandcastles' being a case in point. The harmonies are slick and each note cuts through crystal clear, but it's a clarity that leaves the album feeling that little bit too polished.
The synths that work their way around the songs do add a touch of the atmospheric to proceedings; the break of opener 'Photograph' meshes electronics with some blistering fretboard activity wonderfully, only to be let down by the song giving up the ghost long before it's abrupt end, but there's a sense of the artificial about this album that's difficult to shake. The drums in particular, despite their precision, lack a warmth that would save some sections from sounding as if they'd been lifted from one of Dreamshade's many peers. The drumming may make the main refrain of 'Your Voice' tear along, but there's nothing to really see behind the smoke.
The vocal performance across the album is as you'd expect; a Howard Jones-esque growl combined with a clean that isn't a million miles away from Trivium's own Matthew Heafy and really shines on stand-out track, 'Sincere'. Starting with some pretty intricate cleans, it works itself into a real anthem with the band showing off their own tricks. Equipped with varied sounds and tempos along with a monster of a chorus, it shows just what Dreamshade are capable of.
In fact, it's the back-end of this album where the band really come into their own. 'Elisabeth', with its use of samples and the like has a pretty unique style, as does the piano-infused closer 'Wants & Needs', where the electronics are alongside the guitars rather than finding their place around them. It's just a shame that it comes too late.
Fans of melodic metal will find themselves on familiar ground with 'The Gift Of Life'. Rarely astounding, it doesn't give Dreamshade the foundation they need in order to make a claim for a spot up there next to their influences. The ideas are there, but they're just a little too contrived and a little too obvious. Maybe next time, eh?
Written by Ryan Williams