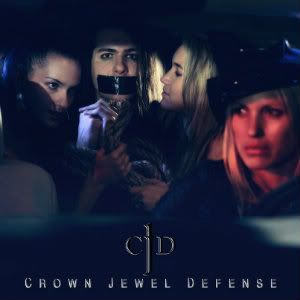 Release Date: January 14th, 2013
Label: Hero Stone Records
Website: www.crownjeweldefense.com
Facebook: www.facebook.com/crownjeweldefense
Twitter: www.twitter.com/cjdband
Rating:


It's no secret that Crown Jewel Defense are hard working and have done it all a little bit differently when compared to other bands. Rather than bringing out album after album, the self-proclaimed stadium metal band have spent the past three years nurturing their self-titled album to perfection. Despite not even having an album released, the band has steadily built a huge fanbase worldwide.
The debut album features fourteen individual songs that have pulled inspiration from a huge spectrum of different musicians, ranging from German metalcore band, We Butter The Bread With Butter to Miley Cyrus. It doesn't come as a surprise then that this album is something special. The band's eccentric look reflects itself in each of the songs in a good way. All fourteen tracks are bursting with energy and sounds like a classic metal album.
Singer Taylor Hood's vocals are complimented perfectly by gritty riffs and the crashing of drums and sound as if they've been pulled straight from one of the iconic glam metal bands of the 1980s.
Although the album is full of stadium worthy riffs, the band have also incorporated a number of electronic intros to songs that really give the album an individualistic edge. Stand-out tracks are 'Clip My Wings' for one of the best riffs on the album, 'Metal Rain' for the electronic intro and 'Guns And Run' which, in parts, takes more of an acoustic turn.
The album overall is perfectly polished with catchy lyrics. Crown Jewel Defense made a great decision to spend time perfecting the album before releasing it, because as a result they have created something to be extremely proud of. With an ever growing fanbase worldwide and the true belief that they can become a stadium metal band, there's no stopping Crown Jewel Defense.
Written by Caitlyn Dewar