ALBUM: Departures – Teenage Haze
November 26th, 2012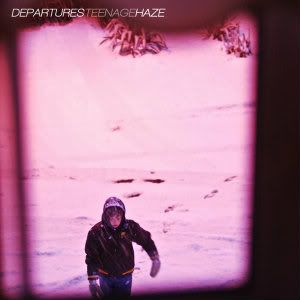 Release Date: November 26th, 2012
Label: In At The Deep End/FITA Records
Website: None available
Facebook: www.facebook.com/departuresuk
Twitter: www.twitter.com/departuresuk
Rating:


With arguably the most healthly hardcore scene in the world at present, it takes something rather special to stand out from the glut of superior acts consistently flooding the UK. Emotionally raw yet unswervingly forlorn and bleak, 'Teenage Haze' takes a laudable stab at a distinctly American brand of driving melodicisms, yet ultimately falls just short of the ever towering British quality benchmark.
This is not to say, however, that Departures have not delivered a fantastic release. Tracks such as opener 'Drained Out' utilize a sparkling marriage of shimmering chord passages and winding aggression which are as melancholically affecting as anything you could name this year, and a calloused, bitterly harsh vocal performance throughout undeniably ramps up the sincerity and at points a heart wrenching intensity (especially on the particularly frenzied, 'Making Maps').
The only issue here is a dissapointing lack of variety. As the album progresses, we begin to get a rather unshakeable feeling that we're going in circles and for all the continuing emotive outpouring, the elegantly picked guitar lines and despondent bellow begins to somewhat wane in its potency.
For any devotees of melodic hardcore, 'Teenage Haze' is an undeniable gem. A compelling measure between charm and violence is executed with an age defying competence, and, with a subtle injection of innovation to just push them over the cliff, Departures could easily see themselves scramble to the top of the UK hardcore heap.
Written by Tony Bliss