ALBUM: Attack Attack! – Attack Attack!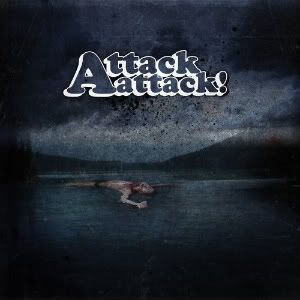 Release Date: June 8th, 2010
Label: Rise Records
Website: www.attackattackoh.com
MySpace: www.myspace.com/attackattack
Rating:

A shift in band members and their roles has been a big effect upon crabcore leaders Attack Attack!. The US post-hardcore/metalcore/trancecore/something-core quickly fired their then lead vocalist as soon as a week after the release of their debut full-length 'Someday Came Suddenly' back in 2008 left the band on uncertain shakey ground, but come 2010 and the band come with their self-titled second record.
'Someday Came Suddenly' and their debut music video 'Stick Stickly' branded them with the mocking "crabcore" tag, and in their defence they take it all in their stride. The problem with their sound back then was the undeterminable line between heavy and dance that though arguably was interesting was also more confusing and just messy. This self-titled effort has moved them a little further to a more refined sound, but evidently they're still on a search to find their place.
The band's new vocalist Caleb Shomo stepped forward from just being their keyboard/synth player to this extra role almost naturally, with his voice definitely being more fitting than their previous screamer Austin Carlile. This new main role seems to have impended on their hugely obvious input of electronica and synth which was their main downfall before, yet when they bring it in in masses it fits as well as shoving metal in a microwave. It just doesn't work, and leads to catastrophic results! Even the autotune effects on Johnny Franck has went down from over-the-top to reasonable.
'Shut Your Mouth' sounds like a cheap rip-off of something you'd find overly requested in your local chav infested night club, and 'Fumbles O'Brian' is a near painful experience which sounds like they're trying really badly to sounds a bit like Lil' Wayne, and why the hell would you even try to do that? Let's not even get into how out of place and ridiculous the dubstep outro is on closer 'Lonely'.
It's a shame how much these few examples really bring the record down, as tracks like 'AC-130′, 'I Swear I'll Change' and 'Renob Nevada' are evidence of a band that have clearly improved a great deal since their first release back in 2008. Their songs are tighter, rawer and sound more like a band that will last longer than the fad that they once bracketed themselves in.
Really not an amazing release, infact mediocre at best but Attack Attack! have shown they're heading in the right direction. Album number 3 may be the one that gets them to where they really want to be.
Written by Zach Redrup
---
Tags: Attack Attack! (US)
This entry was posted on Monday, July 12th, 2010 at 8:31 PM and is filed under CDs. You can follow any responses to this entry through the RSS 2.0 feed. You can skip to the end and leave a response. Pinging is currently not allowed.