LIVE: Combichrist @ Moho Live, Manchester (27/06/2012)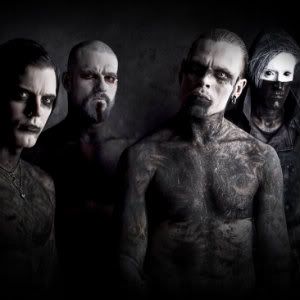 Date: June 27th, 2012
Venue: Moho Live, Manchester
Support: Surgyn / Jayce Lewis
Website: www.combichrist.com
Facebook: www.facebook.com/combichrist
Twitter: www.twitter.com/combichristarmy
Rating:


Waiting outside Moho Live on a gorgeous sunny Wednesday, I feel somewhat a minority. Donning my Primark chequered shirt and jeans, I stand out horrifically in a queue of cyber goths which are dressed head to toe in black and leather, with chains and spikes coming out of their shoulders and ears. I may have got one or two odd looks, but none of that mattered when we were all inside the venue, dancing along to some dangerously loud industrial metal.
Up first are Dundonian double act Surgyn (**), who get full marks for appearance, dressed in what seems to be authentic old school surgeon aprons accompanied with vintage medical headgear. Their performance was, erm, interesting and reminded me of the Artistic show that Vulva put on in that episode of Spaced. I feel that a lot of their songs lacked the 'hook', which is a key part of any industrial track and although the rough vocals sounded great, the clean vocals were not quite up to par. Surgyn are still in their early stages and have yet to iron of the creases and when they do, I have no doubt they will go on to do great things. I don't like giving a bad review to a band that is just starting out, but I have to be honest, sorry guys.
Travelling all the way from the Valleys is the multi-talented industrial genius, Jayce Lewis (****). Armed with his set of session musicians, their set has more of a band feel to it and they play songs not tracks. Looking reminiscent of Rammstein's Till Lindeman, Jayce has a similar vocal style too, with his booming baritone voice ringing out throughout the venue. Although their sound is a little slow paced for what the crowd are after, they enjoy it none the less and readily get involved. Not only does Jayce have an immense live voice, he plays guitar and drums live too. Damn him and all his bloody talent.
Before Combichrist (*****) even take the stage, the crowd is eagerly bustling up and around the stage. So, when frontman Andy LePlegua takes the stage, you can imagine how wild the crowd gets. Tonight's set list and performance is just genius. This being the aptly named Evolution tour, the set list is in chronological order and starts with just Andy and his keyboardist on stage to being with. As the set progresses, more members are added giving the songs more texture and structure. From the off, there's none stop movement from the crowd, which has a surprising age range might I add. Just as they start to run out of energy another member is brought on, which just gets everyone moving again. Andy LePlegua, you are a genius.
Written by Andy Roberts
---
Tags: Combichrist, Jayce Lewis, Surgyn
This entry was posted on Saturday, July 7th, 2012 at 10:40 AM and is filed under Live. You can follow any responses to this entry through the RSS 2.0 feed. You can skip to the end and leave a response. Pinging is currently not allowed.