EP: Chelsea Grin – Evolve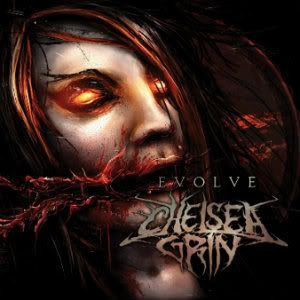 Release Date: June 19th, 2012
Label: Artery Recordings
Website: www.chelseagrinmetal.com
Facebook: www.facebook.com/chelseagrinmetal
Twitter: www.twitter.com/chelseagrinut
Rating:


Splinter did it for the Teenage Mutant Ninja Turtles, Professor Xavier did it for the X-Men and now Jason Richardson has done it with Chelsea Grin. The band were nothing before, but the ex-Born Of Osiris guitarist has somehow managed to turn Chelsea Grin from being pretty piss poor into a band that's actually relevant in the deathcore scene. 'Evolve' may only be five tracks long, but those five tracks are some of the best you will hear this year.
If you've heard 2011′s 'The Discovery' by Born Of Osiris and liked album closer 'Behold', then you will know exactly what to expect from 'Evolve'. The breakdown in that song is like something that Satan has shat out himself, and now those little ploplets have run amok and gained minds of their own. Songs like 'S.H.O.T.' and 'The Second Coming' are downtuned djenty mayhem that will make you feel like you're passing spiked kidney stones.
There are some curveballs here as well. 'Lilith' has a bizarre little clean section that sounds horrifically out of place on first listen, but on closer inspection actually works well. If you're looking for songs with clean vocals though, check out 'Don't Ask, Don't Tell'. It starts off all mellow, like a children's picnic in the sun, and then suddenly BAM, a breakdown of absolute destruction, like a zombie holocaust has just ripped through said picnic.
It really is astonishing how the inclusion of one member can herald such a change in a band, and Richardson deserves all the credit he gets for his work. It's like a group of kids pissing around in high school who have graduated and become executives in large companies. The big difference from that though, is that this group of executives isn't gonna destroy the world's economy… yet.
Written by MG Savage
---
Tags: Chelsea Grin
This entry was posted on Tuesday, June 19th, 2012 at 10:21 PM and is filed under CDs. You can follow any responses to this entry through the RSS 2.0 feed. You can skip to the end and leave a response. Pinging is currently not allowed.