NEWS: The Gaslight Anthem reveal artwork and tracklisting for new album, 'Handwritten'!
The Gaslight Anthem have revealed the full tracklisting and album artwork for their Mercury Records debut effort, 'Handwritten', which is set for a July 23rd 2012 release date. Both the artwork and tracklisting can be seen below: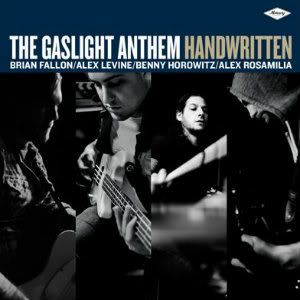 01.) 45
02.) Handwritten
03.) Here Comes My Man
04.) Mulholland Drive
05.) Keepsake
06.) Too Much Blood
07.) Howl
08.) Biloxi Parish
09.) Desire
10.) Mae
11.) National Anthem
---
Tags: The Gaslight Anthem
This entry was posted on Wednesday, May 16th, 2012 at 4:19 PM and is filed under News. You can follow any responses to this entry through the RSS 2.0 feed. You can skip to the end and leave a response. Pinging is currently not allowed.