INTERVIEW: Miss May I @ Academy 1, Manchester (10/04/2012)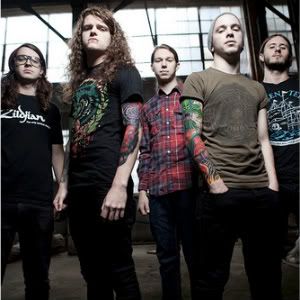 Date: April 10th, 2012
Venue: Academy 1, Manchester
Interviewer: Andrew Roberts
Stream: YouTube
Website: None available
Facebook: www.facebook.com/missmayimusic
Twitter: www.twitter.com/missmayiband
With a new album on the way entitled 'At Heart', the buzz surrounding American metalcore outfit Miss May I as of late is unsurprisingly pretty high. Managing to get a slot on the Parkway Drive UK headline tour, we caught up with frontman Levi Benton to talk about the record, how it stands heads and shoulders above their previous releases, his response to people hating the album's artwork, his love for hip-hop music over metal and more:
YOU CAN LISTEN TO THIS INTERVIEW HERE:
You can read our review of the band's performance that night by clicking here.
Written by Zach Redrup
---
Tags: Miss May I
This entry was posted on Monday, April 30th, 2012 at 8:53 PM and is filed under Interviews. You can follow any responses to this entry through the RSS 2.0 feed. You can skip to the end and leave a response. Pinging is currently not allowed.