HIT THE DECK 2012 PREVIEW: With One Last Breath
With their 2012 already kicking off to a great start seeing support slots with Asking Alexandria and Of Mice & Men, and a full-length album on its way, British metalheads With One Last Breath are set for a pretty successful year with 2012. In the run up to their appearance at this year's Hit The Deck Festival, we spoke with the guys to talk about why you should catch their set, their upcoming album and more: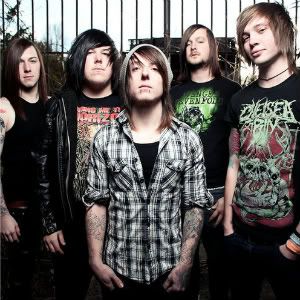 DP!: How are you guys looking forward to playing at this year's Hit The Deck Festival?
WOLB: We're so happy to be playing at Hit The Deck. So many cool bands are performing and luckily for us we're opening up, so we get to finish our set and then go and actually enjoy a day of live music from some of our favourite bands.
DP!: There;s a lot of different bands on the line-up this year, is there anyone that you're particularly excited to see or plan on catching?
WOLB: We're looking forward to catching Yashin. We just got off tour with those guys and we miss them a lot. It's going to be great to see them play on such a big stage. Deaf Havana will be great too.
DP!: You've already had a busy year so far, on tour supporting the likes of Asking Alexandria and Yashin, how've you guys been finding it?
WOLB: Well, if I'm honest, the past six months have gone from nothing to totally hectic. We love being on the road, we love meeting new people and it feels good to have our music appreciated by so many people. We can't wait for more though.
DP!: You're releasing a new full-length album at some point this year, can you tell us a little more about that?
WOLB: The album is recorded already and we're currently having it mastered in America. The album is nearly all new material. It's jam packed with a more mature sound. We've included a lot of singing, a lot of screaming and a lot of solos. It's a mixture of our single releases and our old EP, so I think everyone who wants to hear it will love it.
DP!: With so many different bands on the line-up, why should people come and check you guys out?
WOLB: The last time that we played in Nottingham was in the Rock City main hall with Asking Alexandria, and a lot of people missed us because we were on just after doors. The people who did see us and choose to come back will see such an improvement in everything. All in all, I would say that anyone who comes is going to see a strong stage show and a massive sound. I can see an early morning pit.
DP!: Will you guys be letting yourself loose at the after party?
WOLB: We're going to consider the festival a day off from the Of Mice & Men tour, considering that we're going to finish playing before we would normally even be awake. We're going to get packed up and party with everyone. It's going to be a great day.
DP!: Finally, is there anything else that you'd like to add and share with our readers?
WOLB: We would like to add that anyone reading this who is interested to come and say hi to us. We just want to meet the people that we feel give us this great opportunity to be a busy band. Come and get brutal with us!
SET TIME: 12:45 – 13:15 (Rock City Basement – Big Deal Clothing stage)
RIYL: Asking Alexandria / Motionless In White / Bullet For My Valentine
LISTEN TO: Wake The Dead / Hell We Create / After The Suffering (below)
---
Tags: Hit The Deck Festival, With One Last Breath
This entry was posted on Thursday, April 19th, 2012 at 3:45 PM and is filed under Features, News. You can follow any responses to this entry through the RSS 2.0 feed. You can skip to the end and leave a response. Pinging is currently not allowed.