ALBUM: Various Artists – Wrongpop Presents: A Charity Album In Aid Of Deafness Research UK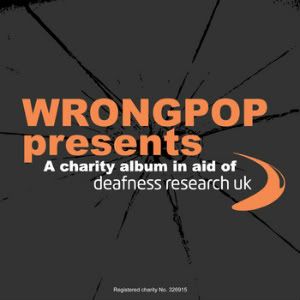 Release Date: March 1st, 2012
Label: Wrongpop
Website: wrongpop.bandcamp.com
Facebook: None available
Twitter: www.twitter.com/wrongpop
Rating:

Laudably raising money for a fantastic cause, Wrongpop have compiled a satisfyingly rich and diverse release in their funding raising efforts, showcasing not only the exciting talent florishing in the UK's up and comers but also a commendable willingness of these bands to turn their craft to the backing of a profoundly worthy benefactor.
Spanning fourteen tracks, the album is undoubtedly an interesting and somewhat enlightening listen. From the danceable, shimmering grooves of opening Silver Bells number 'Dance' and the understated slow burning from Camp Stag, through to the jarring rhythms and gnarly instrumental pummeling of Ice, Sea, Dead People's 'Diamond Swords' and Pulled Apart By Horses' driving riff work and untethered aggression, the tracks here are dripping in youthful enthusiasm, as each band turn in a impassioned performance.
And, coupled with some real examples of innovation and creativity (the sinister spoken wordisms and unsettling piano stabs from Joeyfat's 'Candy 19, From Copenhagen' is a certain highlight in this department), what we are ultimately left with is an album which by turns has a little something for everyone, and the potential to broaden the tastes of any of those open minded enough to allow it. For those that enjoy a wide range of music already, this album is a treat indeed.
Clearly the product of much hard work and a genuine desire to turn out something interesting and enjoyable, Wrongpop have succeeded on all counts. Armed with a release chock full of exclusive gems from some intriguing and potentially massive future outfits, not only have they provided fans with some fantastic music, but are also raising lots of money for charity. What's not to love?
Written by Tony Bliss
---
Tags: Various Artists
This entry was posted on Thursday, March 1st, 2012 at 4:53 PM and is filed under CDs. You can follow any responses to this entry through the RSS 2.0 feed. You can skip to the end and leave a response. Pinging is currently not allowed.