EP: Dead Swans – Anxiety And Everything Else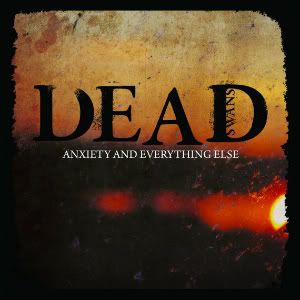 Release Date: February 28th, 2012
Label: Bridge 9 Records
Website: None available
Facebook: www.facebook.com/deadswansofficial
Twitter: www.twitter.com/deadswansband
Rating:


When Dead Swans released 'Sleepwalkers' back in 2009, it was a turning point in UK hardcore which laid down a benchmark for metallic hardcore within the scene. Dead Swans preceded to shy away from the scene before returning in late 2011, with the news that they would be dropping a new EP on US hardcore label Bridge 9 in early 2012.
'Anxiety And Everything Else' in turn is the result of this aforementioned statement, and it is undoubtedly a return to form for the Brighton based outfit. They made their comeback at the Thirty Days Of Night 7 event at Manchester's Moho Live venue just a few short months ago and this EP has thankfully followed swiftly.
Coming in at 7 tracks, it feels more like a mini-album than an EP but the die-hard fans of the band won't be complaining. For a 7 track EP it moves at a quick pace, opening tracks 'I've Been Trying To Leave' and 'Summer Of Hate' are dispatched with an efficient ruthlessness. In terms of sound, Dead Swans haven't really tried to change too much around. 'Anxiety And Everything Else' was recorded at the Cros Nest studio where their 'Southern Blue' EP was recorded, and it still retains the metallic edged hardcore punch that made Dead Swans so popular in the first place.
'Keep Them Shut' is a song that's sure to create chaos when transferred live, a slow finger picked riff coupled with frontman Nick Worthington's howls soon give way to a frantic drum beat and stabbing guitars which work well together to up the intensity. It's refreshing to see that Dead Swans haven't bowed to the current fashion within the scene of unimaginatively adding breakdowns everywhere and anywhere. This EP is plenty heavy enough without any of that.
The EP draws to a close on 'Southern Blue', a stomping near three minute end to the EP. If anything the seven tracks just about set you up for more songs, so leaving it at this relatively short length works well for the band.
Die-hard fans will love this and this will do Dead Swans no harm in pulling in anyone who missed them before their extended break. This is a very solid EP and a very promising return for Dead Swans. Expect big things in the near future.
Written by Josh Peett
---
Tags: Dead Swans
This entry was posted on Friday, February 3rd, 2012 at 3:22 PM and is filed under CDs. You can follow any responses to this entry through the RSS 2.0 feed. You can skip to the end and leave a response. Pinging is currently not allowed.