INTERVIEW: Don Broco @ Academy 2, Manchester (29/01/2012)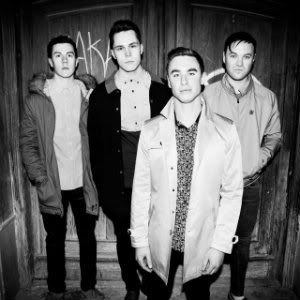 Date: January 29th, 2012
Venue: Academy 2, Manchester
Interviewer: Zach Redrup
Stream: YouTube
Website: None available
Facebook: www.facebook.com/donbroco
Twitter: www.twitter.com/donbroco
Bedford may not be the most likely place where you'd find a great source of rock, but Don Broco have been set to change that, and they're not doing a bad job at it so far either. With a successful EP under their belts and a hugely hyped debut full-length on the way, we caught up with the guys on their first tour across the UK in 2012 – supporting Four Year Strong. We talked about the upcoming album, the recent departure of bassist Luke Rayner, balancing the band with day jobs and more:
YOU CAN LISTEN TO THIS INTERVIEW HERE:
You can read our review of the band's performance that night by clicking here.
Written by Zach Redrup
---
Tags: Don Broco
This entry was posted on Thursday, February 2nd, 2012 at 9:42 PM and is filed under Interviews, News. You can follow any responses to this entry through the RSS 2.0 feed. You can skip to the end and leave a response. Pinging is currently not allowed.